Winner of the 2016 ARPCBI Youth Award
Congratulations Cassy Hughes
Cassy is from Booleroo Centre in SA's mid north and has started her own Red Poll cattle stud, WilsdonView. She was the recipient the NHD young breeder's award in 2014.
From Cassy:
I first started my involvement with cattle through Booleroo Centre District School's (BCDS) Agriculture program in year 10 (2014), prior to this I had barely even touched a cow. My teacher suggested I attend the SAJHE to further my learning. I got in contact with a local Red Poll breeder Richard Daley to source a heifer as he supplied the school with steers. After the SAJHE, Richard asked if I'd be interested in handling for him at local shows and the Royal Adelaide Show, taking this offer up I quickly became familiar with and comfortable around cattle. In 2015 I purchased a cow and heifer calf unit from him with the aid of the money from the NHD young breeder's award.
Over the last two years I have continued working with Richard Daley and joined as part of his show team. I have learnt a lot about cattle breeding and the way he does this within his stud to continue producing high standard animals. A lot of my beef industry learning has been with BCDS, preparing, handling and showing steers of various breeds at the Royal Adelaide show in both on-hoof and on-hook competitions. Both of these are major focuses at the SAJHE and I'm highly interesting to learn more about.
I have been rather successful in individual achievements, placing with in the top three in most handler competitions as well and placed third at the 2014 Royal Adelaide Show. I have also been rather successful in junior judging competitions at the local shows. I feel that being able to judge these animals is a critical part to being able to identify the best animals to produce from within herds.
My small stud so far consists of 3 Red Poll animals including a calf of Moyle Park Zepplin who was known as one of the best Red Poll Bulls in Australia. I intend on increasing my herd through breeding my cow and heifer within the coming months as well as entering the beef industry by steering the Zepplin calf as we're not ready to have a bull on the property yet. Within the next few years, I am hopeful we will be able gain some return from this method of breeding and may look into acquiring a bull of our own.
My future goal is to work within the Agricultural industry to help maintain Australia's primary producers. I'd look to do this by running or working within a cattle stud to help keep Australia producing Australian beef. I think the experience of starting a cattle stud from scratch along with learning opportunities such as attending the SAJHE are great ways to understand and develop into the agricultural industries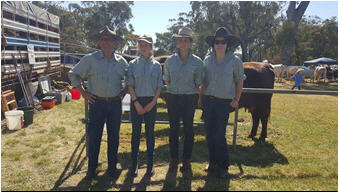 The ARPCBI wishes Cassy every success in her future endeavours.